These pages contains a selection of computer generated artwork and graphic design.
This site has created to establish a presence on the internet and introduce Nero to people web-wide.
The style of these creations is adaptable to any commercial use, and most of the images of these galleries have been used from other companies or magazines.
If you want to know more about me as a Freelance artist, go to Nero page from the left menu.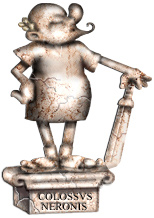 All of the graphics, as web site too, have been designed and realized by Nero unless otherwise indicated and they are best viewed with IE and a resolution of 800x600 True Colors or more.